The body's immune system protects the body from all types of attackers. Without a well-functioning immune system, you could be prone to many types of diseases and illnesses.
The immune system is made up of a network of cells and tissues working hand in hand to detect foreign invaders and attack them before they can cause damage to the body.
The immune response to foreign invaders can be categorized into two: primary immune responses and secondary immune response. (1, 2)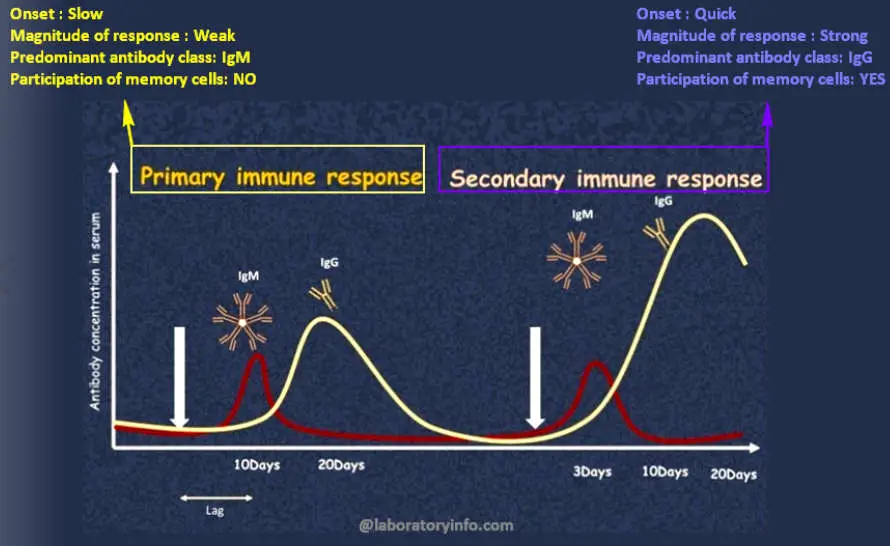 What is the Primary immune response?
The primary immune response is the first response of the body once it encounters antigen. The nature of response depends on the nature of the antigen and the point of entry.
It usually takes days to resolve the condition leading to the formation of memory cells with high specificity for the responsible antigen.
In a nutshell, the body's primary immune response is the body's first encounter with antigen or the innate immune response. (2, 3)
Examples of primary immune response
Injecting an antigen during immunization.
A recipient rejecting a skin graft.
Enzymes present in skin oils and tears.
Acid in the stomach (gastric acid)
Cough reflex
Innate humoral immunity such as the complement system of the body and substances that cause fever like interleukin and interferon. (1, 2, and 3)
What is the Secondary immune response?
The body's secondary immune response is the second line of defense, also called the adaptive immune response.
Such type of immune response is very specific as, during the early developmental stages, the army cells (B cells and T cells) create antigen receptors that are reactive to particular antigens.
The secondary immune response takes place when the person is exposed to the same antigen in which the immunological memory has already been established. It's more like the immune response is already permanently imprinted in the body, thus, causing an immediate antibody attack every time the same antigen is detected. (4, 5)
The secondary immune response is activated if the primary immune response is not enough to control the specific antigen.
Secondary immune response has two types:
Cell-mediated immune response (T cells)
Humoral immune response (B cells and antibodies).
It also makes use of memory to give your body long-term protection from recurring infection of the same pathogen.
Examples of secondary immune response
Booster shots
Tetatnus antitoxins
Immune serum globulin (4, 5)
Detailed comparison between primary and secondary immune responses.
Point of Comparison
Primary Immune Response
Secondary Immune Response
Meaning
It pertains to the immune system's reaction when it gets in contact with a certain antigen for the first time. (5)
It pertains to the immune system's reaction when it gets in contact with a particular antigen for subsequent times.
Other names
Innate response
The adaptive response, and anamnestic immune response
Where does it appear/take place?
The immune system's primary response takes place in the spleen and lymph nodes.
The secondary response is mainly observed in the bone marrow, lymph nodes, and spleen. (5, 6)
Duration of antibody Peak
It would take 7 to 10 days for the antibody to reach its peak.
It would only take 3 to 5 days for the antibody to reach its peak.
Lag Phase
For the primary response, the lag phase is longer than the secondary response. It usually takes four to seven days. (5, 6)
The lag phase of secondary immune response is short, which typically takes about one to four days.
Antibodies involved in the response
Thymus dependent and Thymus independent.
Thymus dependent
Type of cell that responds to an antigen
T cells and naïve B cells
Memory cells
Types of antibodies produced during the process
Immunoglobulin M (IgM) and immunoglobulin G (IgG) in a small amount.
Immunoglobulin M (IgM) in small amounts, immunoglobulin G (IgG) in large amounts, immunoglobulin A (IgA), and immunoglobulin E (IgE). (6, 7)
The amount of antibody produced during the process
The primary immune response only produces a small number of antibodies.
The secondary immune response produces a huge amount of antibodies; usually 100 to 1,000 times more than the amount produced by the primary immune response. (7)
Level of antibody
The level of antibody usually declines up to the extent where it can't be detected anymore. (5)
The level of antibody remains high for a long period of time. (6)
Antibody specificity
The antibodies present in the primary immune response are more specific than the secondary immune response. However, they are less avid. (8)
The antibodies produced in the secondary immune response are less specific but they are more avid when compared with the primary immune response.
Strength of response
The immune response of primary immunity is not as strong as the response caused by secondary immunity.
A secondary immune response is stronger than the primary immune response. (4, 5)
Negative phase
The primary immune response has no negative phase.
There is a possibility that a negative phase will occur in a secondary immune response.
Nature of response
The primary immune response appears slow and short-lived. (7)
The secondary immune response is strong, prompt, and tend to last longer than the primary immune response. (7)
Conditions associated with the response
The conditions associated with primary immune deficiency are mostly inherited. (8)
The conditions associated with secondary immune deficiency are caused by primary illness. (8, 9)
Examples

Injecting an antigen during immunization.
A recipient rejecting a skin graft.
Enzymes present in skin oils and tears.
Acid in the stomach (gastric acid)
Cough reflex
Innate humoral immunity such as the complement system of the body and substances that cause fever like interleukin and interferon. (6, 7, and 8)

Booster shots
Tetatnus antitoxins
Immune serum globulin (6)
Primary immune response in a nutshell
The primary immune response pertains to the body's ability to produce antibodies to fight against substances that can harm the body.
It is a cell-mediated immunity that takes place after the first exposure to antigen.
At the start of the response, antibodies were not produced, meaning, everything is brand new.
To combat the foreign invaders, the immune system needs to activate naïve B cells and differentiated into antibody-producing plasma B cells.
Out of those B cells, some remain in the body and develop into memory cells.
During the course of the primary immune response, there is an incident called the lag phase, which refers to the time in which antibodies are produced against a certain antigen.
During the primary immune response, the lag phase is long, which could take a few weeks or even months.
As with the amount of antibody, it is typically low and the primary type of antibody produced during a primary immune response is immunoglobulin M (IgM).
With the passage of time, this antibody is barely detected. (4, 7, 9, and 10)
Secondary immune response in a nutshell
Secondary immune response refers to the immune system's response after subsequent exposure to certain foreign bodies or antigen.
It is made possible by the memory cells.
Since the immune system has already a memory of such foreign bodies or antigens, it would be easier to elicit a response.
Thus, explains the short lag phase in the secondary immune response.
Just like the primary immune response, the secondary immune response produces a huge amount of immunoglobulin G (IgG), a small amount of immunoglobulin A (IgA), and a small amount of immunoglobulins M and E (IgM) and IgE). (3, 6, and 10)
References
https://microbenotes.com/differences-between-primary-and-secondary-immune-response/
https://microbiologynotes.com/differences-between-primary-and-secondary-immune-response/
https://microbeonline.com/differences-between-primary-secondary-immune-response/
http://blog.naver.com/PostView.nhn?blogId=jesus24968&logNo=220904554848&categoryNo=140&parentCategoryNo=0&viewDate=&currentPage=1&postListTopCurrentPage=1&from=section
https://aklectures.com/lecture/immunology/primary-vs-secondary-immune-response
https://sites.ualberta.ca/~pletendr/tm-modules/immunology/70imm-primsec.html
https://bio.libretexts.org/Bookshelves/Microbiology/
https://www.yourarticlelibrary.com/immunology/difference-between-primary-and-secondary-immune-response-immune-response/27758
https://link.springer.com/referenceworkentry/10.1007%2F3-540-29662-X_2402
http://repository.limu.edu.ly/bitstream/handle/123456789/1307/