The temperature of our surroundings varies from time to time. Some organisms produce internal heat to regulate their body temperature.
These are called warm-blooded animals. On the other hand, some organisms change their environment instead of producing internal heat. Such animals are called cold-blooded animals.
The two types of organisms according to the ways of regulation of temperature are
Warm-blooded Animals
Cold-blooded Animals
These animals have adapted different body mechanisms and structures to maintain their body processes.
Warm-blooded Animals (Definition and Examples)
These animals can produce heat through the various processes in the body and maintain their body temperature in a constant range.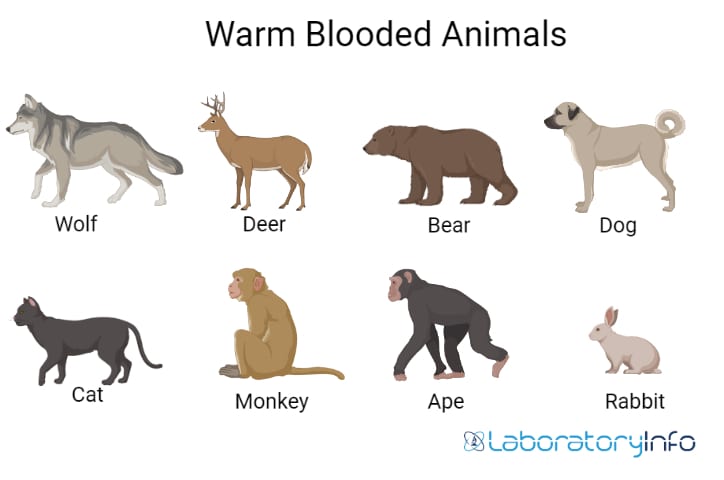 The other name for warm-blooded animals is homeothermic animals.
The body temperature of warm-blooded animals is independent of the environmental temperature.
Their bodies show higher activities to maintain their temperature.
Endothermy and Homeothermy both processes are used to maintain temperature.
Endothermy includes how animals regulate their body temperatures using their internal mechanisms. E.g., burning of body fats.
While in Homeothermy, heat is exchanged between the animals and their environment through radiation and other processes.
Vasodilation and loss of heat through sweating etc., are the main mechanisms to increase heat loss in the hot environment.
Vasoconstriction and the decreased loss of body heat minimize the loss of body heat in a cold environment.
Some animals, like bears, have fur on their body, and others, like seals, have a layer of fat to regulate their temperatures.
Mammals and birds are warm-blooded animals.
The average body temperature of mammals is 37 degrees, whereas, for birds, it is approximately 40 degrees Celsius.
Some important mechanisms for regulating body temperature are
Shivering
Hibernation
Panting
Perspiring
The metabolic activities of such animals play an important role in regulating their body temperature.
Some warm-blooded animals go to the period of inactivity called hibernation during the winter season. It is mainly due to the unavailability of food during winters.
This type is extremely diverse and includes most of the animals.
Cold Blooded Animals (Definition and Examples)
Cold blooded animals change their body temperature with the changes in their environmental temperature.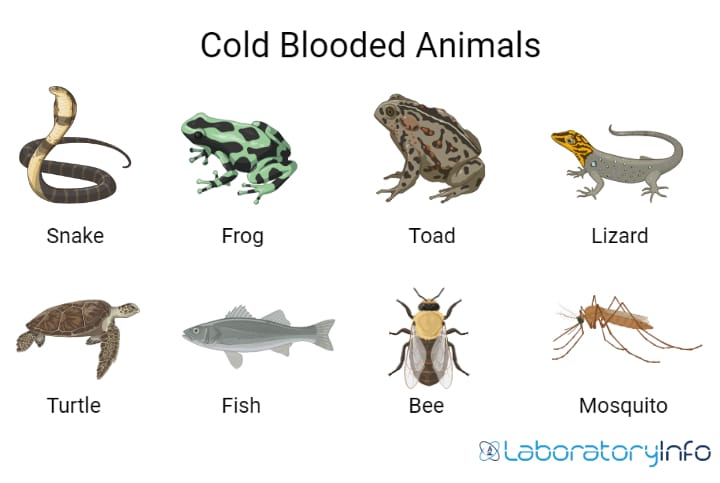 These animals are also called Poikilotherms.
Cold Blooded animals include Reptiles and Amphibians.
The body temperature of such animals is approximately equal or a bit higher than that of the environment's temperature.
These animals change their environment to normalize their internal functions.
Like lizards and alligators, some of these animals bask in the sun to give warmth to their bodies.
According to their body conditions, other organisms may go to the water or the damp and shady places.
The drastic change in the environmental temperature can cause the death of cold-blooded animals.
The oxygen content of the water is reduced with the increase in temperature. The low oxygen content can cause the death of watery animals like fish.
These animals slow down their body activities by moving to a burrow or other places and only come to the surface when the environmental temperature becomes favourable.
Some insects lay their eggs securely and die during the winter season. The next progeny is produced in the optimum temperature of summer or spring.
The body mechanisms of such animals are complex.
For a single process, they are needed to make different proteins to operate at different temperatures.
Comparison of Warm-blooded and Cold-blooded Animals
| | | |
| --- | --- | --- |
| Characters | Warm-Blooded Animals | Cold Blooded Animals |
| Definition | These are the animals that regulate their body temperature with the changes in the environmental temperature. | These animals do not have any regulatory mechanism for maintaining their body temperature within a narrow range. |
| Other names | These are also called Homeothermic animals | Another name for cold-blooded animals is poikilotherms |
| Average body temperature | Their average body temperatures lie between 37 to 40 degrees | Their body temperatures are not constant; they vary with temperature |
| Body processes | Body processes vary according to the change in temperature. There may be hyperactivity or inactivity periods depending on the surrounding temperature. | The body processes of cold-blooded animals are independent of the environmental temperature. |
| Hibernation period | In winters, most of the animals undergo a hibernation period. | Mostly absent. Only a few animals undergo hibernation period during winters. |
| Organization level | They have all the complexity of the higher organization level. | Organs that require more energy for operating properly like brains are absent in these animals. |
| Mechanisms for maintaining body temperatures | The warm-blooded animals use mechanisms like shivering, panting, sweating, vasodilation, and vasoconstriction. | These animals may move to other places for regulating body temperature. Lizards go for sun basking; some animals move to the water, and so on. |
| Internal heat production | There is the production of internal heat using various metabolic mechanisms. | No internal heat production in cold-blooded animals. |
| Effect of the drastic change of environmental temperature | Warm-blooded animals regulate their body temperature and adapt themselves to extreme environmental conditions. | Most of the cold-blooded animals die upon the arrival of extreme environmental conditions. |
| Enzymes | Only work on the optimum body temperature. | Different enzymes for a single process at different temperatures. |
| Mechanisms | Simple | Complex |
| Immune system | Stronger for maximum protection | Effective defence system against microorganisms |
| Heat source | Food and somehow environment | Sun and surroundings |
| Genetics | Less complex | More complex |
| Examples | Invertebrates like fishes, lizards, alligators | Vertebrates like birds and mammals |
Frequently Asked Questions
Q1. Are humans cold-blooded animals?
Human beings regulate their body temperatures around 37 degrees Celsius. So, these are warm-blooded animals.
Q2. What is the effect of low temperature on cold-blooded animals?
The body activities of cold-blooded animals slow down with the decrease in temperature. Upon reaching a certain limit, their metabolic processes stop. On the drastic temperature change, these animals may die.
Q3. What is Homeothermy?
Homeothermy means to regulate body temperatures within a limit that is completely independent of the environmental temperatures.
Q4. What are the mechanisms to prevent cold-blooded animals from freezing to death?
Some of these animals have a hard outer layer to minimize the heat loss from their bodies. At the same time, some of them use supercooling mechanisms for their blood to prevent freezing.
References
1983 Warm- and Cold-Blooded Animals. Young Naturalist. The Louise Lindsey Merrick Texas Environment Series, No. 6, pp. 16-19. Texas A&M University Press, College Station.
https://tpwd.texas.gov/publications/nonpwdpubs/young_naturalist/animals/warm_and_cold_blooded_animals/
https://microbenotes.com/cold-blooded-vs-warm-blooded-animals/
https://www.britannica.com/science/biology
Cold-Blooded Animals (World of Science) by Burton, Maurice